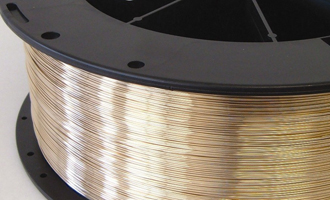 Luvaweld™ is Luvata's own brand of welding wire. Luvaweld™ is a superior quality MIG and braze wire available in a variety of specifications, dimensions and packaging types to meet customer's exact welding requirements.
Luvaweld™ is available in the following alloys:
Dioxidized Cu
Brass
Phosphorus bronze
Si-bronze
Al-bronze
Luvaweld™ Specifications:
Din 1733 Materials: 
SG-CuSi3Mn
Si-bronze
SG-CuAl8
Al-bronze
SG-CuSn1
SG-CuSn6P
Phosphorus bronze
Material No.
2.1461
2.0921
2.1006
2.1022
EN 14640
CuSi3Mn
CuAl8
CuSn1
CuSn6P
BS2901 part 3
C 9
C 28
C 7
C 11
AWS A 5.7
ER CuSi-A
ER CuAl-A1
ER Cu
ER CuSn-A
Electrical conductivity (S*m/mm2)
3-4
8
15-20
9
Density (kg/dm3)
8,5
7,7
8,9
8,7
Solidus-Temperature (0C)
910
1030
1020
910
Liquidus-Temperature (0C)
1025
1040
1050
1040
Tensile strength Rm (MPa)
330-370
390-450
210-245
320-360
Hardness (HB)
80-90
140
60-80
80-90
Characteristics of Welding Wire:
Elemental and uniform chemical composition throughout their length
Consistent yield strength, cast and helix to guarantee proper feeding
Freedom from scale, excess lubricant and surface defects
Gauge consistency
Quality weld deposits
In addition to welding wire, Luvata also manufactures MIG-welding contact tips and other welding accessories.
Quality:
Luvaweld customers receive the same wire quality from the beginning of one spool to the end, and from one cast lot to another.
Benefits:
Luvaweld™ is continuously cast in coils up to 5,000-pounds, eliminating weld joints.
Fully Integrated:
Luvata offers a fully integrated production system providing a direct link to the manufacturer for product support and tailor-made alloys.
Packaging options:
Spools
Drums up to 550 kg (1,000 lbs)
Sticks in tubes up to 10 kg (20 lbs)